Pre Order Your Elderberry Cuttings Today
Exclusive Pre Sale (below)
Shipping starts January 5th 2024***
Elderberry Cuttings 2023/2024
We are officially starting our pre sale. Here are some important ordering instructions.
We Support You
If you're new to elderberry growing and have questions, don't worry! We're here to provide expert guidance. To ensure a thriving crop of flowers and berries, in spring, plant your elderberry cuttings in a sunny spot with nutrient-rich soil. As early as 16 months, you can begin harvesting elderberries and relish the immune-building benefits with your loved ones.
Growing FAQ's
What you Need to know
Rest assured, elderberry bushes are well-suited to survive Canadian winters and produce thriving flowers and berries. However, deciding on the right variety can be confusing. We recommend varieties "Ranch" and "Berry Hill" which thrive in most regions across Canada. They root easily, ripen early, and are reliable producers of flowers and berries.
Elderberry Varieties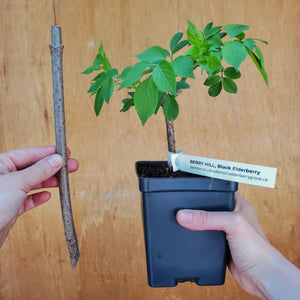 Order Instructions
Unsure what elderberry varieties to order? We got you! Simply choose "Let us select best varieties for your address" and we'll send you a personalized mix! (we'll use the shipping address you enter at check out)
Add minimum 4 cuttings to your cart. This ensures best chance for success
We recommend more than 1 variety for better fruit set
Each order comes with a printout of elderberry growing tips
Pre Sale: orders containing Elderberry Cuttings are shipped January through April in the order we receive orders. If you wish to receive Syrup or Tea now, please place a seperate order from Cuttings.
At the time of packing your cuttings, if we are out of stock, we'll substitute with a good alternative
Certified Organic by NOOA for sale in BC
BULK ORDERS
Buy more cuttings and save:
25+: $6.30/cutting
100+: $5.40
1000+: $3.50 
2000+: $3.10
3000+: $2.97
Want to talk before ordering 25+ cuttings? Fill out the form at bottom of page

Great customer service
Customer service was excellent when I was having problems with my cuttings. Would order from this site again!
Louise was very kind with her time and all my questions via email. I still have lots of questions yet.!!
I am a herbalist. Up north we only have the red elderberry. I envision an "elderberry Grove" that I can use for personal consumption and for making medicine.
I am not a grower. I am a wildcrafter. I leave the growing to nature, so taking this on is going to be interesting! I potted my 20 starts, and they will remain in pots until I can find a place to put them in the ground, as I am a bit of a gypsy at the moment. Wish me luck!
Cant wait to plant my cuttings here in Montreal!
Elderberry Kombucha
Love the taste of elderberries hoping to use them in my kombucha everything seems to be going well so far have them in pots right now just starting to bud will plant once I get my irrigation system in
Promising!
I received three different elderberries about 2 weeks ago. The cuttings are growing fast in my garage. I'll transplant them in about one month, if not sooner. We live in Victoria BC (zone 8-9) so I expect them to grow well. I once lived in Germany for 1 year and there were elderberry (Holunder in German) trees in the woods. One reason I grow these elderberries is for their flowers, not the berries. I can't wait to see them bloom (I guess in a couple of years?)
I really like elderberrygrove's service and the quality of the cuttings I received. Thanks!