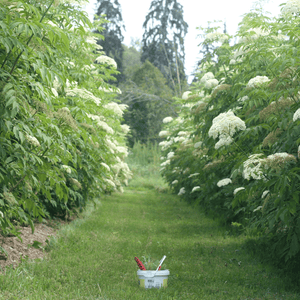 ELDERBERRY CUTTINGS PRESALE
Grow Your Own Healthy Elderberry
Unlock the power of elderberry and enhance your family's health with our elderberry cuttings. Grow your own elderberry tree and experience the joy of harvesting immune-supportive, antioxidant-rich flowers and berries. At Elderberry Grove, we're here to guide you every step of the way, making elderberry cultivation in Canada a breeze. Join our presale and secure your elderberry cuttings from January through April.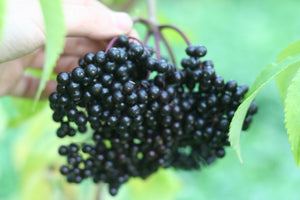 Why Elderberry?
Black elderberry is renowned for it's immune-supportive, anti-viral and antioxidant properties. By growing elderberry plants, you'll have the ability to create your very own food-medicines. Savor the goodness by indulging in spoonfuls of elderberry syrup or adding it to sparkling water.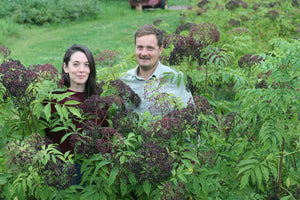 We've Got Your Back!
If you're new to elderberry cultivation and have questions, don't worry! We're here to provide expert guidance. To ensure a thriving crop of flowers and berries, plant your elderberry bush in a sunny spot with nutrient-rich soil. As early as 16 months, you can begin harvesting elderberries and relish the immune-building benefits with your loved ones.
Learn more
Let customers speak for us
Choose the Best Elderberry Variety for Your Location
Rest assured, elderberry bushes are well-suited to survive Canadian winters and produce thriving flowers and berries. However, deciding on the right variety can be confusing. We recommend the "Ranch" and "Berry Hill" varieties, which thrive in most regions across Canada. They root easily, ripen early, and are reliable producers of flowers and berries.
If you'd like assistance in selecting the ideal varieties based on your address, we offer a convenient option on our cuttings product page called "let us select the best varieties for your address." We'll send you a mix of cuttings that are suitable for your location.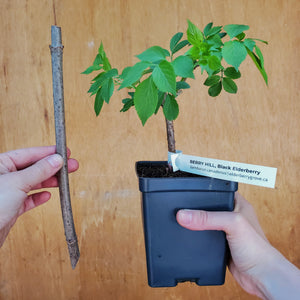 Experience the Magic of Elderberry - Get Inspired!
While you eagerly await your own elderberry harvest, indulge in the pure-pressed goodness of our Elderberry Syrup, Shrub, Juice, and Elderflower Tea. Produced straight from our organic elderberry farm in Salmon Arm, BC, these products will inspire and invigorate your wellness journey.
Join us in cultivating elderberry and reap the numerous health benefits it offers. Preorder your elderberry cuttings this fall and witness the magic unfold!